Основные сведения: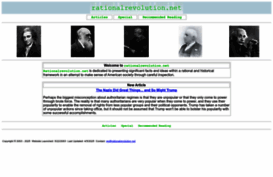 Рейтинг:

Адрес:

О сайте:

Анализ данных rationalrevolution.net показал, что у этого домена средний рейтинг Alexa и это обычный ресурс со средним уровнем посещаемости. Лидирующую позицию по доле трафика занимает США (65,6%), а владельцем домена является Registration Private (Domains By Proxy, LLC).

Заголовок:

rationalrevolution.net - Making sense of history, economics, politics, philosophy, and war

Мета-описание:

Welcome to rationalrevolution.net Rationalrevolution.net is dedicated to presenting significant fac...

252 181

Нет данных

Нет данных

Статус:

Онлайн

Дата последней проверки:
Наиболее популярные страницы домена:
Casualties of War - Putting American Casualties in Perspective

by - November 3, 2003 The United States of America has a somewhat unique relationship with war. While America is considered to be the most militarily powerful country in the world today, Ame...

The invasion of Kuwait

The invasion of Kuwait After the resolution of the Iran/Iraq war, Iraq was in severe debt. This debt was undoubtedly a major motivating factor in Saddam's decision to invade Kuwait. What is impo...
Другие домены этого хостинг-провайдера (GoDaddy.com, LLC):
Географическое распределение аудитории для rationalrevolution.net:
| Страна | Доля посетителей | Рейтинг по стране |
| --- | --- | --- |
| США | 65,6% | 375 959 |
Информация о домене:
| | |
| --- | --- |
| Возраст домена: | 20 лет |
| Владелец: | Domains By Proxy, LLC (Registration Private) |
| Регистратор: | GoDaddy.com, LLC |
Другие домены, которые могут быть вам интересны: